Commercial Well Drilling and Water Services in King George Northern Neck VA
King George Drilling Service Can provide the following commercial well drilling and water services in the Northern Neck of Virginia area of King George, Caroline County, Stafford County, Richmond County, Westmoreland and Essex areas.
Pump Installation
Our certified residential, water well pump installers can install constant pressure systems, large storage systems, submersible, and jet pumps. We provide replacement of non-working pumps and troubleshooting of non working pumps or water wells.
Water Well Abandonment
We can abandon and seal residential drilled or hand dug water wells.
Down the Water Well Camera Troubleshooting
Our technician can now examine and troubleshoot any issues inside your home residential well with a very small camera lowered into your well on our portable television.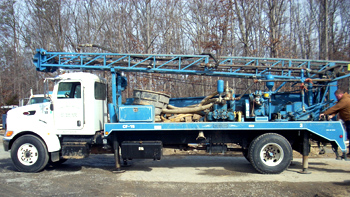 Water Yield Testing
Our certified technicians can perform a water yield test that measures the gallons per minute your well is producing. A water yield test is required for newly constructed wells and recommended before the purchase of a property with an existing well. The Maryland State requirement is at least (1) one gallon per minute.
Agricultural Drilling
Whether you're irrigating agricultural crops, golf courses or the landscaping in your yard, we can design a system to meet your needs. We offer a wide variety of irrigation pumps, systems to accommodate any and every irrigation well needs.
Geothermal Drilling
We drill residential geothermal ground loop bore holes and the exterior tie in to the heating and cooling system. We can provide consultation and advice on geothermal systems and design since it is the new alternative to heating and cooling that uses the earth's stored heat and water thermal masses underground to heat and cool residential homes. The EPA have determined that geothermal systems have the lowest life cycle cost of any heating and cooling system today.
Monitoring Wells
We can monitor wells to Increase productivity with lower operating expenses so you can optimize performance.
Trenching Service
We can cut trenches for: